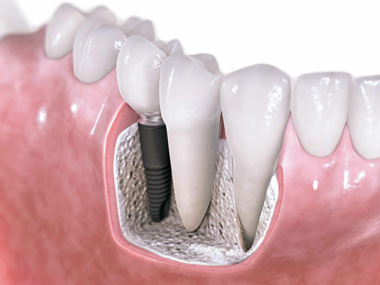 Dental Implants
Dental implants are changing the way people live. Designed to provide a foundation for replacement teeth that look, feel, and function like natural teeth. An individual who has lost teeth is able to regain the ability to eat virtually anything, knowing that teeth appear natural and that facial contours will be preserved. Patients with dental implants can smile with confidence.
What is a Dental Implant?
A dental implant is a tooth root analogue (replica). It is an artificial tooth root made of surgical grade titanium, which is placed into the jaw onto which crowns and bridgework can be constructed.
Dental implants have numerous possible applications in dentistry:
To replace a single or multiple teeth without affecting adjacent teeth
To support bridgework or replace a partial denture
To help support or secure upper or lower dentures
Dental implants are a natural-looking tooth replacement option. They can provide you with increased freedom and confidence by restoring that unsightly gap in your smile or that denture which never stays in one place, making eating difficult. In many cases dental implant teeth can be made to look and feel like your own teeth. Ongoing long-term studies show that dental implant treatments generally exhibit predictable and excellent success rates.
Are you a candidate for dental implants?
If you are considering dental implants, Dr. Mather will work with you and your dentist to determine how dental implants can be used for your specific case. Following an initial consultation Dr. Mather will address your specific needs and considerations and develop a treatment plan tailored just for you.