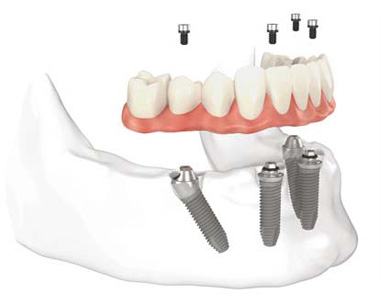 Teeth In A Day (All-On-4)
In the past, having a large amount of teeth replaced could be a lengthy process involving long waits and many implants placed in your mouth. All-on-4 is a revolutionary concept providing patients with fully functioning teeth on dental implants in one single procedure. All-on-4 utilises dental implant technology but is different because it can give patients a whole new set of teeth using only four implants. It is able to do so by placing two of the four implants at such an angle that the bridge is supported by the implants at the front of the mouth, where the jaw bone is denser and stronger.
What does the All-on-4 procedure entail?
All-on-4 is a revolutionary technique which aims to cut down the amount of invasive surgery required to replace a full set of missing teeth by using only four dental implants instead of the usual six to ten.
Having been assessed for suitability, your dentist will take a CT scan of your mouth to check that your bone is of adequate quality for the implants.
This CAT scan also allows for the generation of a three-dimensional model of the jawbone that can then be used in virtual reality software to plan the implant placement without the presence of the patient. The results are more accurate implant placement, and less chair time for the patient at the surgery office.
The computer-guided implant surgery is done in an arthroscopic fashion without requiring any flap reflection. This benefits the patient in that there is less postoperative discomfort, less swelling and less bruising. Patients can often resume their normal activities the next day.
With All-on-4 there is very rarely the need to wait for the mouth to heal. Permanent bridges can be fixed on the same day and patients can leave the dental surgery with a full set of replacement teeth intact and ready for use.
Am I suitable for All-on-4?
Your dentist, denturist and Oral & Maxillofacial Surgeon will to give you a thorough assessment to see if All-on-4 is the right procedure for you. A review of your medical history, evaluation of your bone quantity and quality will all be assessed to determine if you are a candidate for this procedure. There is no age limit for All-on-4.
Ultimately, All-on-4 allows patients to forget that the teeth in their mouth are not their natural teeth.